Hotels in Sant Julià de Vilatorta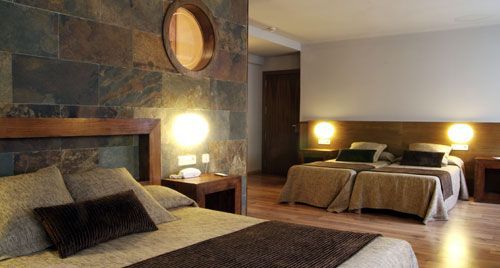 Ribes de Freser, Ripollès, Girona (10km from )
The Caçadors is an ecological mountain hotel located in the Catalan Pyrenees -at the gates of Vall de Núria- which surprises for a combination of tradition and vanguard. Both its charm of family-run hotel and its rooms comfort will captivate the guest, who will also be able to enjoy a restaurant, an exterior hot tub, a terrace and the Moons Room.
Setcases, Ripollès, Girona (13km from )
Hotel La Coma is ten kilometres from the ski slopes at Vallter 2000, 1,279 metres up. It is the ideal place for those who wish to practise skiing, fishing, hiking or mountain biking and to relax afterwards in its heated swimming pool, jacuzzi or sauna.
Llanars, Ripollès, Girona (18km from )
Hotel Grèvol, built of stone and wood, in the purest Bavarian architectural style, is in the Herat of the Pyrenees of eastern Girona. Perfectly integrated into the surroundings, natural light fills its rooms with warmth and invites you to relax in its swimming pool and the indoor jacuzzi or to feel the massage of its pressure showers.